BART Balcony Restoration Contractors Chicago
Welcome to Bart Masonry & Tuckpointing Contractors Chicago. Our services include also balcony restoration. Through the years of hard-working in masonry & tuckpointing profession, we gained a lot of valuable experience which translates into amazing performance of our work. The mix of skilled masonry contractors and a high quality waterproofing concrete makes us one of the greatest restoration companies in Chicago.

Every balcony needs from time to time a renovation, but the waterproofed ones are way more durable. That's only one reason why you should consider Bart balcony restoration services. Since we started with masonry company, we have finished a lot of balcony restoration projects. It became our daily bread. This experience let us take care of your balcony restoration and do the waterproofing like any other contractor. Don't hesitate and call Bart for balcony restoration services.
Whenever you need a balcony restoration, Bart is the best solution.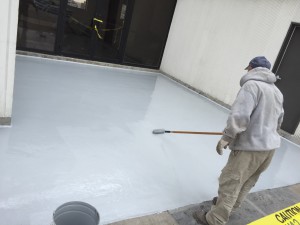 Balcony Renovation Services in Chicago, IL
Properly done waterproofing is really crucial for open air exposed places like balcony, terraces or patios. Those heavy stressed areas of your building are exposed for the destructive effect of the elements like rain, snow, sun and temperature changes for the most time. In case there are tiles on your balcony, the mortar in joints can crack and lead to ingress there water and cause significant damage. That's why it's so important to take proper steps, in order to preserve their life-spawn and increase durability. While looking for a way to improve and preserve your balcony or patio, give us a call and let the Bart Masonry Contractors take care of your balcony restoration. Years of experience in the masonry profession and lots of finished projects made us able to do the balcony waterproofing even in the most demanding circumstances.
Bart Balcony Restoration Chicago
Bart Tuckpointing Contractors specialize also in balcony restoration. It happens, that devastation of balcony or terrace is due to it structure itself. It also happens that time is most determining factor of balcony deterioration. If your balcony is damaged or the floor is cracking, contact us and we'll take care of your place.
When we're talking about balcony repair, there's one significant thing that should be taken into consideration. Waterproofing is crucial aspect for the areas, that are highly exposed to destructive effect of nature forces like rain, snow or even sun. While designing your balcony, terrace or patio think about using waterproofed concrete. It will prevent the destruction by elements forces, increasing it durability and guarantee the waterproofed balcony will last longer.
If you consider balcony restoration in Chicago, give a call to Bart Masonry Contractors. Serving Chicago's tuckpointing & masonry needs since 1998 have taught us a lot. Now we are experienced enough to confidently say: we are here, to take a good care of your balcony, terrace or patio. For the highest quality balcony waterproofing & balcony restoration services in Chicago, contact Bart Masonry & Tuckpointing Contractors.
If you are looking for the highest quality balcony restoration in Chicago, give a call to Bart Tuckpointing & Masonry Contractors